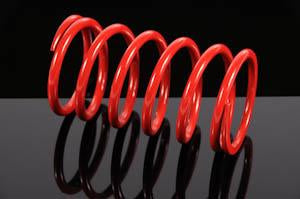 Automatic Variator Spring Malossi Race Reinforced F12, BWS
Product Code: BD02233
We're pleased to offer FREE UK Delivery on orders placed over £150.00.
Delivery is available Worldwide. See our Delivery Information page for further details.
We're committed to providing a great customer service and wish our customers to be 100% satisfied with purchases.
Please review our Returns Information or Contact Us if you have any queries.
All our orders are 100% secure. We know this because our e-commerce system is Level 1 PCI compliant and uses 128 bit SSL encryption to ensure credit card data is secure.
Which is the same level of encryption used by large banks around the world.
Automatic - Variator Spring - Race Reinforced Spring -Aprilia/Benelli/Beta/Italjet/Etc.
RED Race Reinforced Spring 4.1mm
Suitable for,
AEON COBRA 50
APRILIA AREA 51
APRILIA RALLY AIR
APRILIA RALLY LC
APRILIA SONIC AIR
APRILIA SONIC LC
APRILIA SR 50 1994>2000 MINARELLI AIR COOLED
APRILIA SR 50 LC 1994>1999 MINARELLI MOTOR
BENELLI 491 50cc AIR COOLED
BENELLI 491 50cc LIQUID COOLED
BENELLI 49X 50cc 2T - QUATTRONOVE X 50cc 2T
BENELLI K2 50 AIR
BENELLI K2 50 LC
BENELLI PEPE
BETA ARK AIR
BETA ARK LC
BETA CHRONO
BETA EIKON 50
BETA QUADRA
BETA TEMPO
CPI ARAGON 50
CPI HUSSAR 50
CPI OLIVER 50
CPI POPCORN 50
DINLI T REX 50
DRR DRX 90
E TON VIPER RXL 50
E TON VIPER RXL 90
EXPLORER CRACKER 50
GARELLI GSP 50 LC 2 STROKE
GENERIC CRACKER 50
ITALJET DRAGSTER 50
KEEWAY GOCCIA 50 2 STROKE KW1E40QMB4
KEEWAY HURRICANE 50
KEEWAY MATRIX 50
KEEWAY PIXEL 50 2 STROKE KW1E40QMB4
KEEWAY RY8 50 2 STROKE KW1E40QMB4
LAVERDA QUASAR 50 AR 03
MALAGUTI CIAK
MALAGUTI F10 JETLINE
MALAGUTI F12 PHANTOM 50 AIR
MALAGUTI F12 PHANTOM 50 LC
MALAGUTI F12 R PHANTOM 50 2007 on WITH MOTOR TYPE QJ CMA02C
MALAGUTI F15 FIREFOX
MALAGUTI YESTERDAY
MASAI 50CC
MBK BOOSTER 50
MBK BOOSTER NEXT GEN
MBK MACH G AIR COOLED
MBK MACH G LC
MBK NITRO 50
MBK OVETTO 50
MBK ROCKET
MBK STUNT
SUZUKI SPORT 80
YAMAHA AEROX 50
YAMAHA BWS 50
YAMAHA BWS NEXT GEN
YAMAHA JOG R AIR COOLED
YAMAHA JOG RR LC
YAMAHA NEOS 50 2 STROKE
YAMAHA SLIDER
YAMAHA SPY
YAMAHA WHY
YAMAHA ZEST.
Picture is for display purposes, and this spring may vary in colour/size