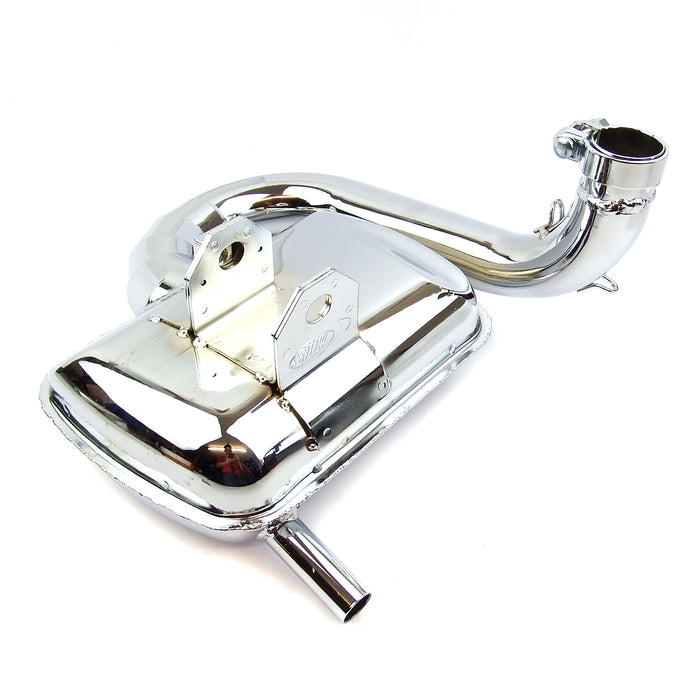 SIP Road Model Race Exhaust Chrome Vespa 200cc Rally, PX, PE, MY
Product Code: BD13381
We're pleased to offer FREE UK Delivery on orders placed over £150.00.
Delivery is available Worldwide. See our Delivery Information page for further details.
We're committed to providing a great customer service and wish our customers to be 100% satisfied with purchases.
Please review our Returns Information or Contact Us if you have any queries.
All our orders are 100% secure. We know this because our e-commerce system is Level 1 PCI compliant and uses 128 bit SSL encryption to ensure credit card data is secure.
Which is the same level of encryption used by large banks around the world.
Exhaust - SIP 2 - Road Model Race Exhaust - Vespa 200cc Rally/PX/PE/MY - Chrome

Steel, Chrome, Fits Wide Tires

"In a very short time, the SIP Road developed into the most wanted touring exhaust system of all. It is also mounted on most of our SIP long-distance Vespas.

The power of the five segments! 5 additional pipe segments add to make up this top-class exhaust!

Significantly higher torque and a fat plus in performance. With an original PX200 cylinder, it壽_蹄太s already 1.8hp. That promises driving comfort and ideal gear connection. The sound is pleasantly restrained. Ideal for daily city drivers. The chromed version is noisier as this exhaust system comes without insulating material. Unfortunately, insulating these exhausts is not possible as the fibres of the insulating material would pollute the chrome bath as well as soak. On the upside, you will be rewarded with classy chrome looks.

Tours and longer distances are not a problem either. The costly manufacturing shines not only with more manifold segments but also with an extra-accurate welding, clearly drawn weld seams and a reinforced bolting for the cylinder manifold. The exhaust is produced within its form in the factory and not cut or welded around later. The chrome version has a louder/tinnier sound, but this is compensated by a classy custom look.

Conclusion:: All in all a racing exhaust with original appearance and perfect fit, high-quality and finely manufactured. A plus in torque and performance, heat-resistant varnish.

Racing exhaust / 5 segmented downpipe / ROAD design

Steel, big downpipe made up of 5 segments, reinforced cylinder manifold bolting, heat-resistant varnish, plug壽_蹄太n play. PX200: with original cylinder + 1,8PS/ + 1,5Nm, PX150: with original cylinder + 1,0PS/ + 1,5Nm Make sure to check and optimize your jetting and ignition settings.

Now with three years warranty courtesy of SIP,

"We are convinced of the quality of our products. This is why we have extended the legal warranty for our SIP Road exhaust systems to a SIP Premium Warranty that lasts for 36 months. If a fault should occur during this time which is not due to improper use or improper assembly, we will repair the exhaust free of charge or replace it with a new one.
This Premium Warranty applies to end-buyers and starting from the following purchase date: 1st November 2016."
Information Courtesy of SIP