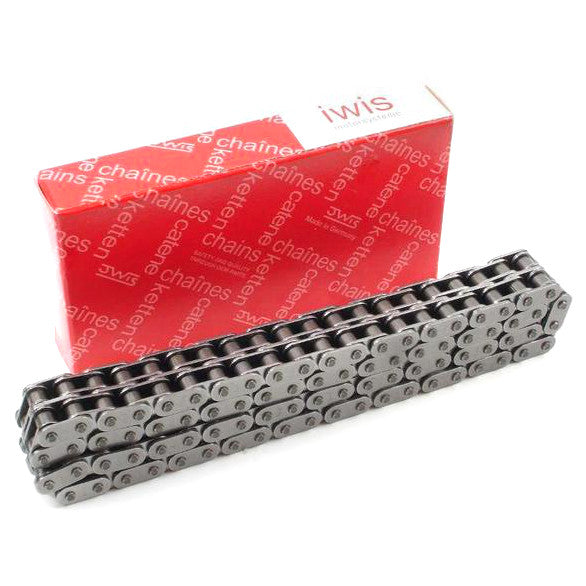 Lambretta GP 200 IWIS 82 Link Chain
Product Code: BD05905
We're pleased to offer FREE UK Delivery on orders placed over £150.00.
Delivery is available Worldwide. See our Delivery Information page for further details.
We're committed to providing a great customer service and wish our customers to be 100% satisfied with purchases.
Please review our Returns Information or Contact Us if you have any queries.
All our orders are 100% secure. We know this because our e-commerce system is Level 1 PCI compliant and uses 128 bit SSL encryption to ensure credit card data is secure.
Which is the same level of encryption used by large banks around the world.
Lambretta GP 200 Chain IWIS 82 Link Chain
82 Link Pitch Drive Drain made by Iwis, Germany.
Excellent quality chain.



One Piece Endless Chain

For standard GP 47/18 sprocket set ups or Assorted combinations with new style chain under or over adjuster blocks.
Iwis high quality long life precision chains are all pre-stretched and produced to extremely high standards. Their breaking strengths and wear/fatigue standards are much higher than the requirements of DIN/ISO.
Each chain has excellent wear resistance and is coated in an initial high efficient lubrication.
Approved to ISO 9001.
Chain fitting examples with under and over type chain guides:
Primary Combination, Chain Length, Shoe Position:
15/46 80 push up
16/46 82 pull down
17/46 82 pull down
18/46 82 pull down
19/46 82 pull down
20/46 84 pull down
15/47 82 pull down
16/47 82 pull down
17/47 82 pull down
18/47 82 push up
19/47 84 pull down
20/47 84 pull down