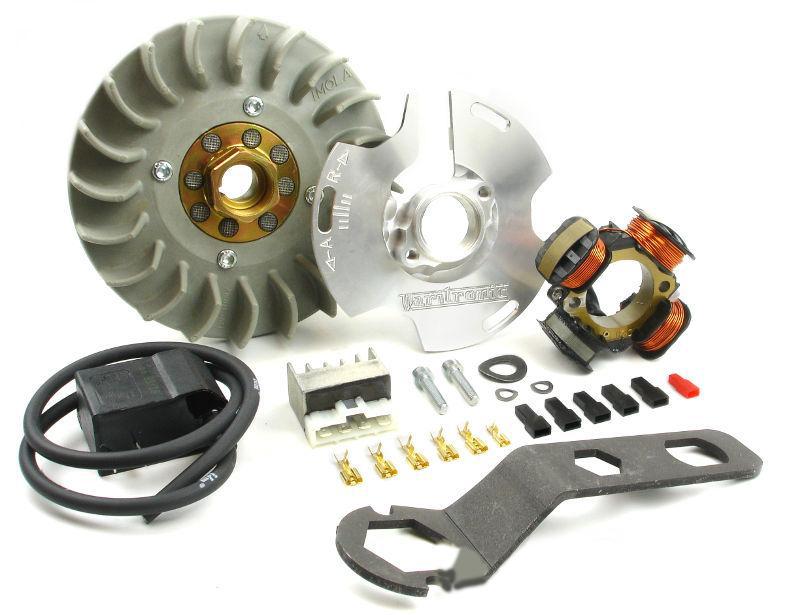 Lambretta Electronic Kit Varitronic Li, SX, TV, Li Special
Product Code: BD01127
We're pleased to offer FREE UK Delivery on orders placed over £150.00.
Delivery is available Worldwide. See our Delivery Information page for further details.
We're committed to providing a great customer service and wish our customers to be 100% satisfied with purchases.
Please review our Returns Information or Contact Us if you have any queries.
All our orders are 100% secure. We know this because our e-commerce system is Level 1 PCI compliant and uses 128 bit SSL encryption to ensure credit card data is secure.
Which is the same level of encryption used by large banks around the world.
Lambretta - Electronic Varitronic Kit - Li/SX/TV/Li Special

Made by Italian based company SEIGIORNI

Flywheel: 2100g,
Small 21mm cone,
Consists of stator plate, ignition coil, voltage regulator, tool, gray fan.

"CDI Ignition Varitronic - The ultimate for Lambretta owners who wish to use a reliable and efficient scooter, bright lights during the day and night, reliable running with no moving parts.
The technical features are as follows:
- Timing adjusts automatically, with a pre programmed curve of up to 8 degrees
- Nylon fan, light with good air flow for cooling. Can be used with the standard cowls
- High power output, 12V 90W easy starting, greatly improved performance
- HT coil and regulator are both efficient and compact, can easily be fixed anywhere
- The regulator supplies a clean current assuring stable current for long life for bulbs and electrical systems
- Regulator can be used for both AC and DC, battery charge out will even allow you to run a PC or mobile phone!
- The power of the regulator is both powerful and strong, even at low revs there is enough power to run 35W halogen bulbs, giving safe riding night or day
- Twin sparks on each revolution also burns the waste gasses still in the cylinder, greatly reduces pollution
- The easy interchangeable nature of the system and its parts makes maintenance and repair very easy, without the need for specialist charges
- The electrical components can be replaced with just two bolts, with no need to reset or adjust the timing. All parts are checked and tested by us.
- All kits supplied complete including electrical diagram and securing spanner"

---
Listed as suitable for,

LAMBRETTA LI 125 1958-1967
LAMBRETTA LI 150 1958-1967
LAMBRETTA SX 150/ X 150 Special 1966-1969
LAMBRETTA SX 200/ X 200 Special 1966-1969
LAMBRETTA TV 200 1963-1965