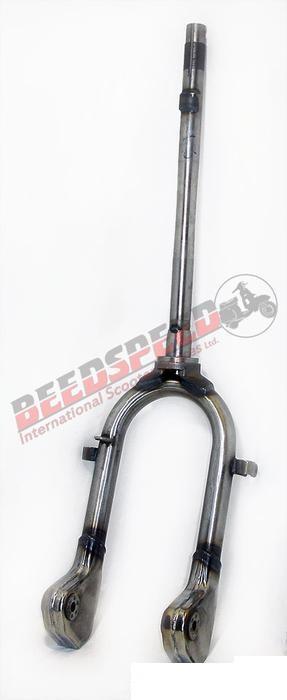 Lambretta - Front Fork - Li Series 2 - Scomadi - 465mm - With Dampers
Product Code: BD12951
We're pleased to offer FREE UK Delivery on orders placed over £150.00.
Delivery is available Worldwide. See our Delivery Information page for further details.
We're committed to providing a great customer service and wish our customers to be 100% satisfied with purchases.
Please review our Returns Information or Contact Us if you have any queries.
All our orders are 100% secure. We know this because our e-commerce system is Level 1 PCI compliant and uses 128 bit SSL encryption to ensure credit card data is secure.
Which is the same level of encryption used by large banks around the world.
Lambretta - Front Fork - Li series 2 with Chrome Ring and dampers - Scomadi - 465mm

Suitable for having Twisted and/or Chromed

Takes Push In Fork Buffers

Information Courtesy of Scomadi & PM Tuning
"Developed by Scomadi Ltd in association with PM Tuning and Scooter Innovation.
Scomadi are proud to announce their new fork set ,manufactured using the latest production techniques to precision tolerances, by PM Tuning at their production facility at Heysham, Lancashire, UK.
Having become dissatisfied with the poor quality of Lambretta forks currently available, which would often be so badly out of alignment, they would need to be completely dismantled re-jigged and re-welded before offering the quality of alignment required for safe usage. We decided after taking these factors into account to take on the task to produce our own top quality fork set ,suitable for use on our own Scomadi production scooters and all Lambretta series 1, 2 & 3 scooters. The main key feature of the new fork set was to TIG butt the feet halves together rather than the conventional spot or MIG welded method of assembly, TIG butt welding avoids the ability for water ingress to become trapped between the conventional overlapped halves and eventually lead to corrosion. The butt welded method of assembly was first used by Innocenti circa 1959 to 1960 on series 1 and 2 Lambretta scooters. Although this method of construction was deemed too expensive a process by Innocenti to carry over to the series 3 models, we pay homage to this earlier and in our opinion superior method of construction for our Scomadi fork sets incorporated with the latest production techniques to bring you the ultimate precision made fork to date."

Fork Features:
Precision TIG butt welded fork feet
CNC machined steering column
Increased fork stop depth
Precision re cast steel saddle
Precision fork jig alignment
Includes upper damper mountings and cable guide
High quality welds and finish ready to paint or chrome