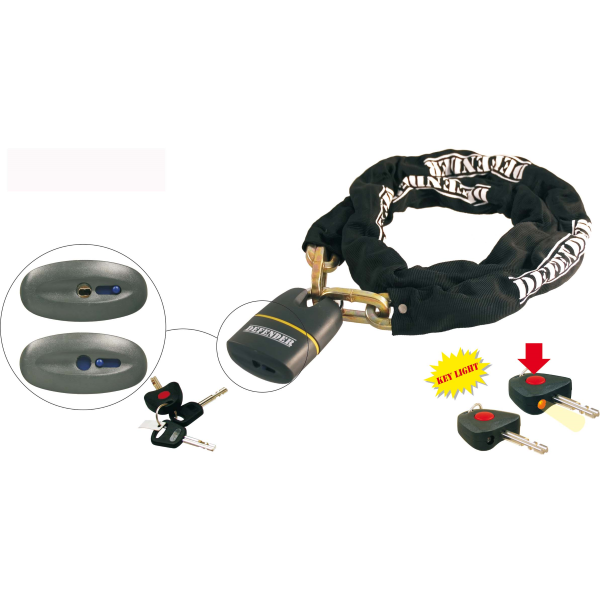 Lock - Chain And Padlock - Heavy Duty - 1.5metres - The Defender
Product Code: BD00264
We're pleased to offer FREE UK Delivery on orders placed over £150.00.
Delivery is available Worldwide. See our Delivery Information page for further details.
We're committed to providing a great customer service and wish our customers to be 100% satisfied with purchases.
Please review our Returns Information or Contact Us if you have any queries.
All our orders are 100% secure. We know this because our e-commerce system is Level 1 PCI compliant and uses 128 bit SSL encryption to ensure credit card data is secure.
Which is the same level of encryption used by large banks around the world.
Heavy Duty Security Lock and Chain.

Named the Defender and made to make any thief think twice!
Consists of,
1x Heavy Duty Square Link Chain
Its length is a decent 150cm which has a nylon, anti-scratch outer sleeve. Metal thickness of the chain loops is 1cm x 1cm, overall link size is 3.4cm x 7.2cm

1x Weatherproof / Drill and Pick Resistant Lock.
With sliding key hole cover. Its been designed so that it can also used as a Separate Disc Lock for 11mm+ hole. Overall Lock Dimensions 110mm x 70mm.
3x Keys - One has a built in red LED light for those dark nights when you need a hand finding the key hole!
Weight 2.5 Kgs