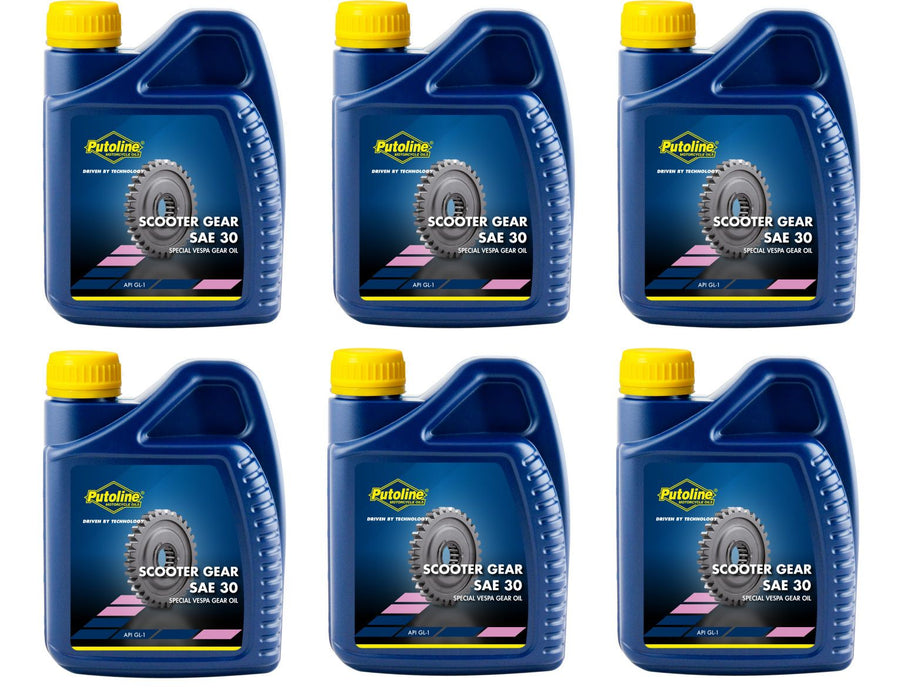 Putoline Gearbox SAE 30 box of 6 x 1/2 Litre Vespa
Product Code: BD01965
We're pleased to offer FREE UK Delivery on orders placed over £150.00.
Delivery is available Worldwide. See our Delivery Information page for further details.
We're committed to providing a great customer service and wish our customers to be 100% satisfied with purchases.
Please review our Returns Information or Contact Us if you have any queries.
All our orders are 100% secure. We know this because our e-commerce system is Level 1 PCI compliant and uses 128 bit SSL encryption to ensure credit card data is secure.
Which is the same level of encryption used by large banks around the world.
Putoline - Gear Box Oil SAE 30 Suitable For Vespa's
box od 6 x 1/2 Litre
Scooter Gear Oil 30 is a special transmission oil. The product lubricates and protects the gearbox. Scooter Gear Oil 30 is suitable for all modern 2-stroke scooters for which an SAE 30 is recommended.
Application
Putoline Oil is a high-quality supplier of a wide range of lubricants and maintenance products. We only supply products for motorised two-wheelers and that makes us unique! Our years of experience, combined with continuous research results in the best price/quality ratio. Manufacturing our own products guarantees a consistently high quality. Putoline Oil, Driven by Technology!
Product specifications
API SF/CC
Typical standard analyses
| | |
| --- | --- |
| Density at 15 هآ?C, kg/l | 0,885 |
| Viscosity 40 هآ?C, mmهآ?/s | 103,00 |
| Viscosity 100 هآ?C, mmهآ?/s | 11,70 |
| Viscosity Index | 98 |
| Flash Point COC, هآ?C | 230 |
| Pour Point, هآ?C | -18 |
| Total Base Number, mgKOH/g | 3,6 |
| Sulphate Ash, % | 0,55 |
هت