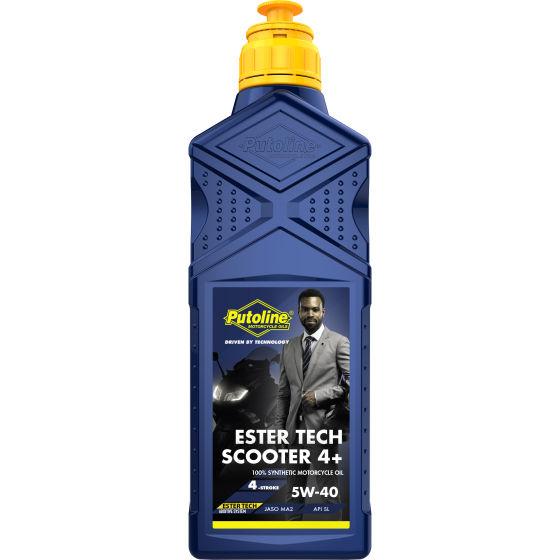 Putoline Scooter 4T+ Four Stroke Oil Fully Synth 1 Litre Scooter Moped
Product Code: BD14175
We're pleased to offer FREE UK Delivery on orders placed over £150.00.
Delivery is available Worldwide. See our Delivery Information page for further details.
We're committed to providing a great customer service and wish our customers to be 100% satisfied with purchases.
Please review our Returns Information or Contact Us if you have any queries.
All our orders are 100% secure. We know this because our e-commerce system is Level 1 PCI compliant and uses 128 bit SSL encryption to ensure credit card data is secure.
Which is the same level of encryption used by large banks around the world.
Putoline Scooter 4T+ Four Stroke Oil Fully Synth 1 Litre Scooter Moped
1 litre - SAE 5w/40w Grade
Ester Tech Scooter 4+ 5W-40 is a fully synthetic scooter engine oil. The addition of the revolutionary Ester Tech additives system guarantees full compatibility with modern clutch friction materials. Ester Tech Scooter 4+ 5W-40 has been exclusively developed for scooters. It guarantees a longer engine service life, even under severe conditions.
Application
Putoline Oil is a high-quality supplier of a wide range of lubricants and maintenance products. We only supply products for motorised two-wheelers and that makes us unique! Our years of experience, combined with continuous research results in the best price/quality ratio. Manufacturing our own products guarantees a consistently high quality. Putoline Oil, Driven by Technology!
Product specifications
JASO MA2
API SL
Typical standard analyses
| | |
| --- | --- |
| Density at 15 هآ?C, kg/l | 0,855 |
| Viscosity -30 هآ?C, mPa.s | 6280 |
| Viscosity 40 هآ?C, mmهآ?/s | 85,40 |
| Viscosity 100 هآ?C, mmهآ?/s | 14,00 |
| Viscosity Index | 169 |
| Flash Point COC, هآ?C | 234 |
| Pour Point, هآ?C | -39 |
| Total Base Number, mgKOH/g | 8,2 |