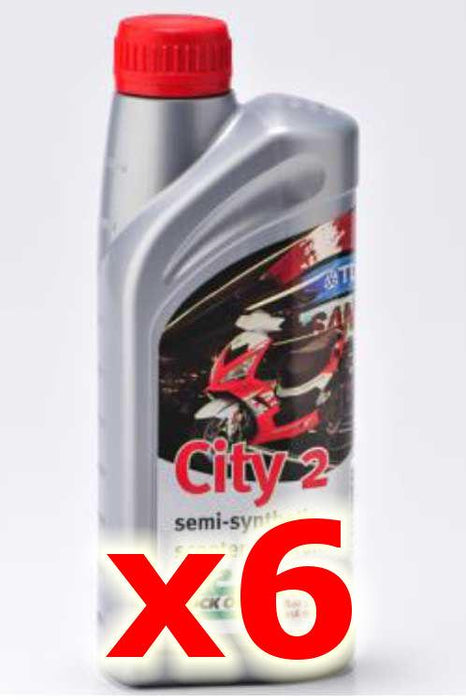 Rock Oil 2Stroke City2 Semi Synthetic 1 Litre 6 Pack
Product Code: BD13156
We're pleased to offer FREE UK Delivery on orders placed over £150.00.
Delivery is available Worldwide. See our Delivery Information page for further details.
We're committed to providing a great customer service and wish our customers to be 100% satisfied with purchases.
Please review our Returns Information or Contact Us if you have any queries.
All our orders are 100% secure. We know this because our e-commerce system is Level 1 PCI compliant and uses 128 bit SSL encryption to ensure credit card data is secure.
Which is the same level of encryption used by large banks around the world.
Oil - Rock Oil - 2Stroke City2 Semi Synthetic - Box

One box of twelve 1 litre bottles
City 2 is a low ash, Semi-Synthetic 2 stroke lubricant for use in scooter injection systems or as a pre-mix at manufacturer's recommended ratios. Low ash formula provides a high resistance to harmful pre-ignition 壽_蹄搪 a severe problem in larger or more powerful scooter engines. Ultimate protection for today's high performance 2 stroke throughout a very wide temperature range. Improves throttle response and provides more accurate metering. Extreme thermal stability ensures maximum performance under even the most severe conditions. Semi Synthetic formulation helps to provide maximum shear strength for complete protection of crankshafts and pistons. Improved engine cleanliness and reduced smoke.
NOTE:
City 2s is most suited for use in an injector system, but has successfully been used as a premix oil. Must not be used with castor based oils.
City 2s will mix with Leaded or Unleaded Petrol, Avgas and Octane Boosters, but not Methanol.
City 2 meets or exceeds all manufacturers' specifications for 2 stroke oils including:
JASO FC, FD
ISO-L-EGD
Typical Physical Characteristics

Density @ 15C 0.867
Viscosity @ 40C 61.0 cSt
Appearance Clear red liquid
Product Code 07280