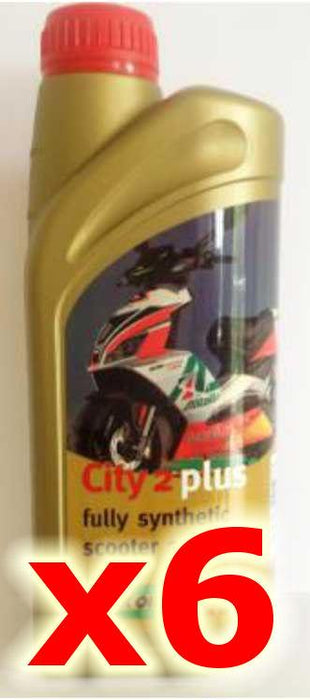 Rock Oil 2Stroke City2Plus Fully Synthetic 1 Litre 6 Pack
Product Code: BD11912
We're pleased to offer FREE UK Delivery on orders placed over £150.00.
Delivery is available Worldwide. See our Delivery Information page for further details.
We're committed to providing a great customer service and wish our customers to be 100% satisfied with purchases.
Please review our Returns Information or Contact Us if you have any queries.
All our orders are 100% secure. We know this because our e-commerce system is Level 1 PCI compliant and uses 128 bit SSL encryption to ensure credit card data is secure.
Which is the same level of encryption used by large banks around the world.
Oil - Rock Oil - 2 Stroke City2Plus Fully Synthetic - 6 x 1 Litre
City 2 Plus is a fully synthetic 2 stroke lubricant. It is made from a variety of different synthetic base stocks including Polyol Esters and Poly Iso Butylenes, which have been successfully coupled with advancedadditive technology.
Features
Smokeless
Easy Mixing
Ultra Clean Burning
High Lubricity - preventing oil induced piston seizures
High Shear Stability - Low Wear Rates
Excellent fluidity
NOTE:
City 2 Plus is most suited for use in an injector system, but has successfully been used as a premix oil.
Must not be used with castor based oils.
City 2 Plus will mix with Leaded or Unleaded Petrol, Avgas and Octane Boosters, but not Methanol. City 2
plus meets or exceeds the following specifications:
JASO FC, FD
ISO-L-EGD
Typical Physical Characteristics
Density @ 15C 0.878
Viscosity @ 40C 68.0 cSt
Appearance Clear yellow liquid
Product Code 07134