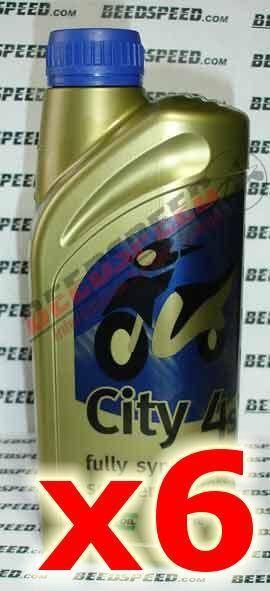 Rock Oil 4Stroke City4 Plus Fully Synthetic 1 Litre 6 Pack
Product Code: BD08086
We're pleased to offer FREE UK Delivery on orders placed over £150.00.
Delivery is available Worldwide. See our Delivery Information page for further details.
We're committed to providing a great customer service and wish our customers to be 100% satisfied with purchases.
Please review our Returns Information or Contact Us if you have any queries.
All our orders are 100% secure. We know this because our e-commerce system is Level 1 PCI compliant and uses 128 bit SSL encryption to ensure credit card data is secure.
Which is the same level of encryption used by large banks around the world.
Oil - Rock Oil - 4Stroke City4 Fully Synthetic - Box = 6x 1 Litre
City 4 Plus is the most advanced four stroke scooter lubricant available. City 4 Plus is a complex blend of pure synthetic base stocks, coupled with state of the art additive technology. During extensive development testing, City 4s proved to be an oil for extremes. Its wide viscosity range gives ultimate protection from cold start conditions to the severe heat of competition, whilst the complex range of additives significantly reduces wear and keeps your engine internals clean.
Features
Outstanding thermal and shear stability.
Exceptionally low volatility.
Excellent control of engine deposits, blow-by contamination, and superb wear protection.
Significantly reduces friction, releasing full engine power and is ideal for all 4 stroke scooter engines.
City 4s meets or exceeds the following specifications:
JASO MA/ MA2
API SL
Typical Physical Characteristics

Density @ 15C 0.863
Viscosity @ 40C 93.3 cSt
Viscosity @ 100C 15.0 cSt
Viscosity Index 169
Appearance Clear amber liquid
Product Code 03084