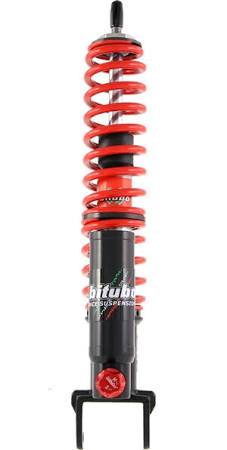 Vespa Rear Shock Absorber PX Bitubo Racing
Product Code: BD09568
We're pleased to offer FREE UK Delivery on orders placed over £150.00.
Delivery is available Worldwide. See our Delivery Information page for further details.
We're committed to providing a great customer service and wish our customers to be 100% satisfied with purchases.
Please review our Returns Information or Contact Us if you have any queries.
All our orders are 100% secure. We know this because our e-commerce system is Level 1 PCI compliant and uses 128 bit SSL encryption to ensure credit card data is secure.
Which is the same level of encryption used by large banks around the world.
Shock Absorber Vespa Rear Bitubo - PX

"Shock absorbers that are too soft can break easily or give you the fright of your life in curves or at high speeds. Sport shock absorbers represent a clear improvement to the suspension. BITUBO has been offering Vespa riders stylish and effective shock absorbers for several decades. The considerable racing experience which BITUBO has gained, especially in the motorcycle Grand Prix, has been incorporated in the development of these shock absorbers. The high BITUBO quality standard is guaranteed through testing each individual suspension strut. BITUBO also offers T?碳V (German Ministry of Transport) component reports for a range of models, thereby enabling T?碳V-approved use on the road. The following BITUBOs are available for classic Vespas:
Sport: The entry level model from BITUBO is a hydraulic oil shock absorber specially developed for the Vespa. The PPS system (progressive pressure system) has been fitted to all BITUBO shocks since 2009 and guarantees to work well when riding with a pillion. The spring is progressive and the spring preload is continuously adjustable. The shock absorbers also come supplied with T?碳V certification.
Classic sport: These excellent shock absorbers were peerless for many moons. This nitrogen filled gas pressure shock absorber has a large, external compensating reservoir for optimum damping behaviour, also at high thermal loads. The compression damping has 12 settings. The spring is progressive and the spring preload is continuously adjustable. Die YAV/YZV range is supplied with a red body and a red spring. BITUBO has regrettably discontinued these classic racing visuals, these shocks are now manufactured for SIP in small batches only. All of these shocks come supplied with T?碳V certification.
Racing: The YEV/YLV shock absorbers replace the Classic Sport shocks but are almost the same as their predecessors. The body is now in a more aggressive black, the compression damping setting has been changed slightly. T?碳V certification is now available for some models.
Please note: BITUBO shock absorbers should not be filled with air. The valve on the shock absorber is for the first fill only.
Conclusion: Very nice shock absorbers which represent a considerable improvement to all Vespa suspensions."
LML Star 125 2T/ DLX / Via Toscana / Deluxe
LML Star 150 2T / DLX / Via Toscana / Star / Stella / Belladonna RV

VESPA 50 / N
VESPA 50 L
VESPA 50 R
VESPA 50 Revival
VESPA 50 S
VESPA 50 Special
VESPA 50 Special
VESPA 50 Special
VESPA 50 Special Elestart
VESPA 50 Special Elestart
VESPA 50 Special Elestart
VESPA 50 SR / Sprinter
VESPA 50 SS / Super Sprint
VESPA 90
VESPA 90 Racer
VESPA 90 SS Super Sprint
VESPA 100 (UK) / 100 Sport (US)
VESPA 125
VESPA 125 (T2/125) (D)
VESPA 125 GT / 125 Sprint
VESPA 125 GTR
VESPA 125 Primavera
VESPA 125 Primavera ET3
VESPA 125 Super
VESPA 125 TS
VESPA 150
VESPA 150 GL
VESPA 150 Sprint
VESPA 150 Sprint Veloce
VESPA 150 Super
VESPA 160 GS (GS4) (D)
VESPA 180 Rally
VESPA 180 SS Super Sport
VESPA 200 Rally
VESPA P125X
VESPA P150 S
VESPA P150X / PX150 E
VESPA P200E / PX200 E
VESPA P80 / P80 E (Frankreich)
VESPA P80X/PX80 E
VESPA PX 80 E Lusso/ EFL/ Arcobaleno / Elestart
VESPA PX100 E
VESPA PX125 2011/ 30 Jahre
VESPA PX125 CAT
VESPA PX125 E
VESPA PX125 E `98 / Millenium
VESPA PX125 E Lusso/EFL/Arcobaleno / Elestart
VESPA PX150 2011
VESPA PX150 E `98 / Millenium
VESPA PX150 E Lusso/EFL/Arcobaleno / Elestart
VESPA PX200 E `98 / Millenium
VESPA PX200 E Lusso/ EFL/ Arcobaleno / Elestart
VESPA T5 / Elestart
VESPA T5 Classic