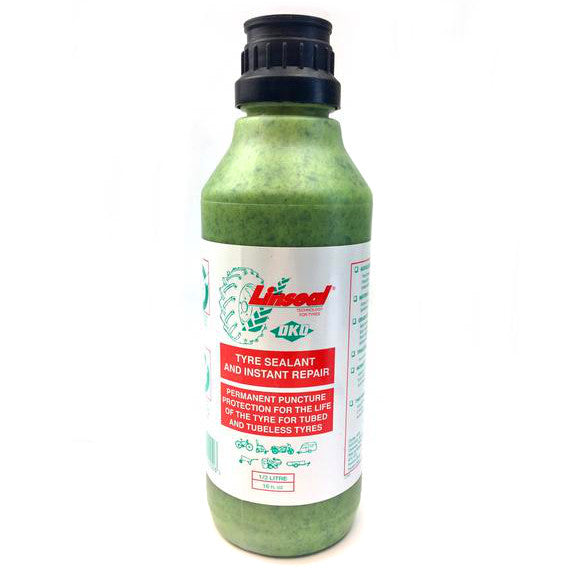 Goop OKO Tyre Sealant Prevents Punctures - for Tubed and Tubeless Tyres 500ML
Product Code: BD14000
We're pleased to offer FREE UK Delivery on orders placed over £150.00.
Delivery is available Worldwide. See our Delivery Information page for further details.
We're committed to providing a great customer service and wish our customers to be 100% satisfied with purchases.
Please review our Returns Information or Contact Us if you have any queries.
All our orders are 100% secure. We know this because our e-commerce system is Level 1 PCI compliant and uses 128 bit SSL encryption to ensure credit card data is secure.
Which is the same level of encryption used by large banks around the world.
Tyre-Sealant - Prevents Punctures - Goop

for any Tube'd and Tubeless Tyres - 500ml

Usage
for wheelchairs, push bikes - 125ml per wheel
for cars, motorcycles - 250ml per wheel
for 4x4s, trailers, ride on mowers - 500ml per wheel

What Is Goop?
Goop is an Aqueous Glycol solution (Non Toxic) containing finely cut rubber particles, preservitives, binders, suspension agents and anti corrosive inhibitors, all perfectly harmless to tyres or tubes. Gopp wil not freeze and remains stable at all times evenat high temperature.

How Does it Work?
Goop is permanantly installed in the tyre or tube, Before any puncture occurs. As the wheel rotates Goop is evenly disributed around the inside of the tyre or tube ready to seal punctures as they occur. When a puncture does occur the escaping air pressure forces Goop into the hole immediately forming a strong airtight seal. Goop will seal puntures up a 1 quater of an inch diameter and can also prevent air loss from the wheel rim.

How Long Does Goop Last?
Goop will last for the life of the tyre or tube, and when the tyre eventually requires replacing Goop will simply wash away leaving no residue on the rim. As Goop is water soluble.