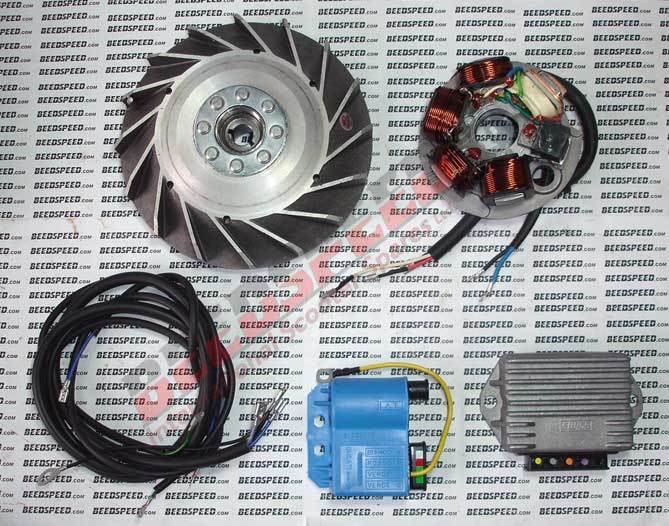 Vespa Electronic Ducati Kit 50 Special 12v AC Lighting with DC Facility
Product Code: BD01913
We're pleased to offer FREE UK Delivery on orders placed over £150.00.
Delivery is available Worldwide. See our Delivery Information page for further details.
We're committed to providing a great customer service and wish our customers to be 100% satisfied with purchases.
Please review our Returns Information or Contact Us if you have any queries.
All our orders are 100% secure. We know this because our e-commerce system is Level 1 PCI compliant and uses 128 bit SSL encryption to ensure credit card data is secure.
Which is the same level of encryption used by large banks around the world.
Vespa Electronic Conversion Kit with Ducati Components,12V A.C Lighting for Small Frame Vespa V50 Special.
This kit is the same kit as the V90, V100, V100 Sport, Primavera, ET3, PKs kit but has different wiring instructions and additional wires.
If you are unsure what your model is or what engine you have; then please compare the crankshaft dimensions necessary at http://beedspeed.com/popup_add_image.php?imagesID=1539 - Then click the "Back" arrow to return to this page.
Includes: Lightened 1.88 Kg Flywheel, Electronic Stator plate with 12 Volt AC Lighting, Ducati CDI, Ducati Lighting Regulator Box which includes a 12v DC battery charging facility if required or just 12 Volt DC for running small accessories without the need for a battery. ( Battery wiring not supplied - just run a wire to the battery from the B+ terminal on the regulator box and then run what you wish direct from the battery).
Assorted terminals to connect up to your wiring loom, Wiring and instructions necessary to use your existing wiring loom and light switch and has rear brake light switch wires for models that previously did not have one.
Please note: The wiring instructions are based around the UK 50 Special with a rectangular head lamp - the UK version can be identified by a twin filament head lamp bulb and a rear brake light fitted as standard and the horn button contacts only make a circuit when the horn button is pressed . The Euro light switch type will need the light switch modifying ( see PDF diagram above ). The ignition cut out will only work when the lights are in the on position. The Euro light switch model appears to be showing up more frequently these days and they can be identified by only having a single filament head lamp bulb and often no rear brake light switch. Your existing 6V horn normally works fine. If you have a rear brake light switch fitted it will need replacing for the Primavera/PX type.
Beedspeed stock a wiring loom especially for the conversion which includes instructions for various light switches / fitting a separate ignition cut out switch or button. See Electrical and Wiring Loom Sections.
If you need a new wiring loom? Beedspeed have various options: email alan@beedspeed.com for any further details.