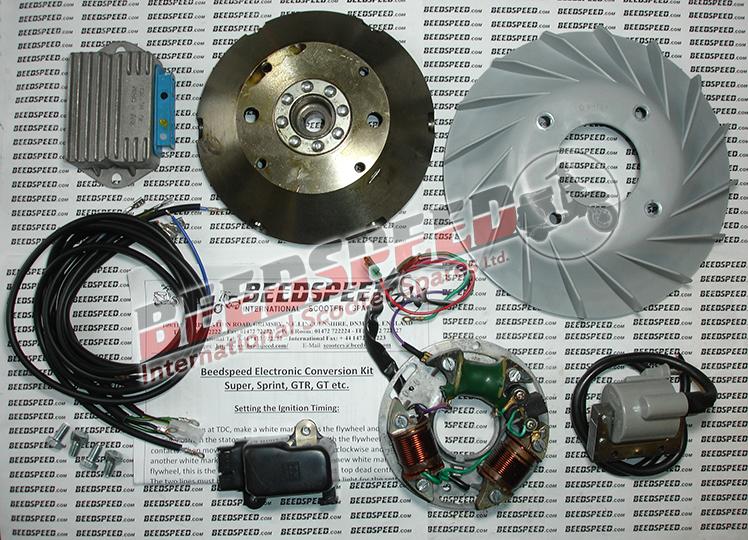 Vespa - Electronic Kit - Super/Sprint - With Battery Facility
Product Code: BD07390
We're pleased to offer FREE UK Delivery on orders placed over £150.00.
Delivery is available Worldwide. See our Delivery Information page for further details.
We're committed to providing a great customer service and wish our customers to be 100% satisfied with purchases.
Please review our Returns Information or Contact Us if you have any queries.
All our orders are 100% secure. We know this because our e-commerce system is Level 1 PCI compliant and uses 128 bit SSL encryption to ensure credit card data is secure.
Which is the same level of encryption used by large banks around the world.
Vespa Electronic Conversion Kit - 12V A.C Lighting Super/Sprint/GT/Sportique with Battery Charging Facility
VNC1 - VBC1 - VNL2 - VLB1 - VBB
New Slotted Stator type.
Includes: Flywheel and Plastic Fan, Electronic Stator plate with 12 Volt AC Lighting, CDI, HT Coil and HT Lead, 12V Lighting Battery Charging Type Lighting Regulator Box, Wiring necessary to use your existing wiring loom, Wiring Diagram for four alternative light switches and ignition cut out types and how to set up your ignition timing.
Uses Piaggio flywheel puller 26x1mm right hand thread 0090 or the long thread type 00-124 available separately.
If your scooter was a None Battery Type, then you will require the Beedspeed conversion light switch ( or a DC Rally Light Switch ) and a DC type brake light switch, available separately.
See Electrical Section
Battery charging type regulator box included. A battery can be used to power Phone chargers / sat navs / instruments / indicators / horn etc.- Help and advice can be given on the wiring necessary.
For Crankshaft type needed and dimensions see the Super/Sprint Crankshaft or see the attached PDF file above.
125 T2 - 59>65
125 152L2 - 1958>
125GT - 61>73
125 Sprint - 61>73
125 GTR - 68>78
125S - 59>65
125 Super - 65>69
125TS - 75>78
150 ( VBA1T) - 58>60
150 ( VBB1-2) - 60>67
150 T4 - D - 59>65
150GL - 62>64
150GL (dk) - 57-58
150 Sprint - 65>74
150 Sprint Velose - 69>79
150 Super - 65>79